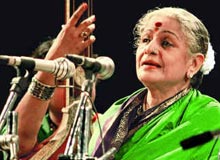 M.S Subbulakshmi is a name that is synonymous with the world of Carnatic music. This flawless singer whose voice had a divine power is the first singer in India to be presented with the Bharat Ratna, the highest award given to any civilian. Born on 16th September, 1916 in Madurai, Tamil Nadu, this singer had a family that had a musical background. Her full name was Madurai Shanmukhavadivu Subbulakshmi and she was fondly known as M.S or M.S.S. Her mother tongue was Kannada. Read the
life history
of M S Subbalakshmi in this short biography.
M.S was introduced to Carnatic music at a very early age. She released her first album at the mere age of 10! She received training in classical carnatic music under the famous Semmangudi Srinivasa Iyer and then learnt Hindustani
classical music
under Pundit Narayan Rao Vyas. M.S gave her first public performance at Kumbakonam during Mahamaham festival. Then M.S went to the Madras Music Academy and gave a stunning performance at the age of 17. Apart from her mother tongue Kannada, M.S sang in Tamil, Malayalam, Telugu, Hindi, Sanskrit, Bengali, Gujarati, etc.